Today hotels offer their guests very different spaces. Each of them requires chairs and accessories suited to their intended use.
"Concepts by Braida" offers chairs, armchairs, ottomans, sofas, tables to furnish rooms, halls, reception areas, lounges, breakfast rooms, common and outdoor spaces of accommodation facilities and communities.
The goal is to make the stay of all guests with the most durable products possible, which remain beautiful over time, despite intensive use.
Our references are Italian and international, confirming prestigious suppliers, often achieved in collaboration with architects and designers of major hotel chains.
Some collections destined to the accommodation facilities are already supplied with Ministerial approval 1IM, provided for by Italian law.
Among the hotels that have chosen to furnish with us their spaces are:
Al Messila Hotel & Resort - Q, Kempinski Residences & suites - Q, Hilton Hotel London ExCel - GB, Hyatt Dubai - AE, Crowne Plaza St. Petersburg - RUS, Le Royal Monceau (designer Philippe Starck) - FR, Hotel Sofitel Casablanca Tour Blanche - MA, Le Meridien Dom Hotel Koeln- DE, Cumulus Hotels - FIN, Angelo Hotel Munich - DE, Aquatis Hotel Lausanne - CH, Starlight Suiten Hotel Salzgries - AT, Starhotels Terminus - IT, Radisson Blu Hotel Dubai - AE, Novotel Dubai - AE, Grand Hotel Bernardin Portorose - SI.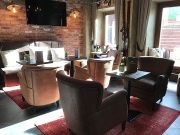 "HOTEL MARMORE" IN CERVINIA
Renovation of the "Hotel Marmore" in Cervinia, in the Italian region Valle d'Aosta. A warm, cozy environment with a vintage touch.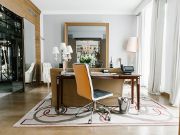 "HOTEL LE ROYAL MONCEAU" IN PARIS
In a modern building, a French masterpiece of luxury, art, culture. A hotel located in the very hearth of Paris, completely restyled by the designer Philippe Starck.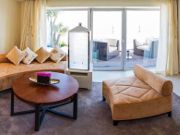 HOTEL SOFITEL IN CASABLANCA
A 5-star hotel characterized by a mixture between French elegance and Moroccan exoticism.
Furniture with French elegance and a touch of Moroccan exoticism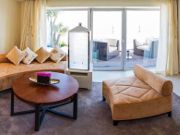 INTERNATIONAL BEACH HOTEL LIGNANO SABBIADORO

A cozy atmosphere for a 4-star hotel that has been recently renovated. Situated in front of the sea, immerse in the green of the pine grove and collocated nearby the lively center of the city.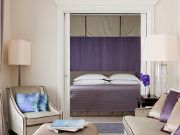 "HOTEL TERMINUS" IN NAPLES
A romantic hotel located in the centre of Naples. A perfect place for discovering Naples' endless charm.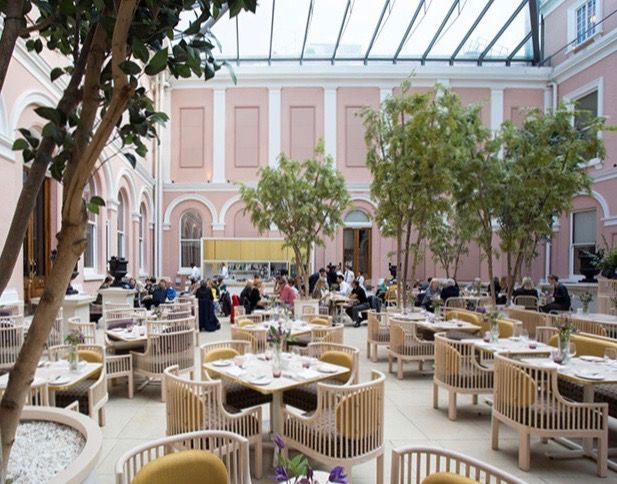 "THE WALLACE COLLECTION RESTAURANT" IN LONDON
The renovation of the "The Wallace Collection Restaurant" in London. An elegant and cozy open space, dotted with trees and sculptures and filled with natural light.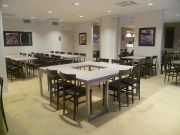 "SPAZIO DONIZETTI" IN MILAN

A gastronomic space in a place which has become Milan's new symbol, the square "Piazza Città di Lombardia". A crossroad of people and flavours yet with a unique functional and elegant style.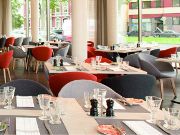 RESTAURANT OF THE "HOTEL ARCONA LIVING" IN OSNABRÜCK
The restaurant's retro style celebrates soft shapes and colors and plain furniture, recreating the atmosphere of the fifties and sixties.
Colorful armchairs reflecting the ease of the fifties and sixties

Every space needs a suitable chair. Furnishing a room, whether it be a restaurant, a bar, a fast food restaurant or a cafeteria represents a challenge: combining style and functionality needs.

This is why "Concepts by Braida" offers a wide range of rational, comfortable and resistant seats. Easy to use chairs, designed with particular attention to functional aspects, determining in any local environment: ergonomics, stackability, lightness, ease of cleaning, robustness and practical handling.
They are chairs produced with high quality materials to cope with the intensive use typical of these environments and last a long time.

"Concepts by Braida" also offers a consulting service to optimize the spaces, creating seats with reduced overall dimensions.
Whatever the style and type of chair, the right table to match is also available.
They have already chosen "Concepts by Braida" chairs and tables:
Wayne's Coffee - SE, Amica Lugna Gatan - SE, The Mall - Caffè Biella Abu Dhabi - AE, Cafè Nescafè - FR, Pumpkin Restaurant - DE, Abbey Trappist Belgium - BE.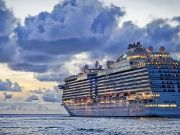 Cruise ship "Disney Dream"
A cruise ship designed for families, where style meets elegance and fun, creating a stimulating place for people of all ages.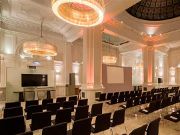 "ANDAZ HOTEL"'S CONFERENCE ROOM IN LONDON
Furnishing of the "Andaz Hotel" in London, a Concept by Hyatt Hotel. Andaz is a Hindi word which means 'personal style'. This is the name of the hotel-boutique which aims to celebrate the individuality of each guest.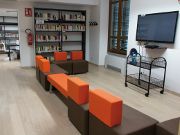 CULTURAL INSTITUTE IN POGGIBONSI
The restoration of a old hospital, which becomes an excellent urban pole for culture in Poggibonsi, near Siena. Decoration of the library and conference room.
Chairs and armchairs for conference rooms play an important role during events. The ergonomics of the chair is decisive in order to maintain a position for long periods of time, without becoming intolerant.
"Concept by Braida" chairs designed for this use are designed to meet these needs.
"Concepts by Braida" chairs are customizable, to integrate with the style of the room and to improve sitting comfort with padding, armrests and special finishes.
"Concepts by Braida" chairs can be completed with a writing tablet and other options, specifically designed for common spaces in the cultural field.
A series of accessories enrich its usability: trolleys for the transport of stacked chairs, plates for fixing them to the ground and aligning the seats, the numbering of seats for cinemas and theaters.
Design and materials suitable to guarantee practicality and comfort. Varied shapes and colors to encourage creativity. For the educational and recreational areas you can find, in addition to the chairs, also poufs and sofas, cushions, bean bag chairs and furnishing accessories.
The coatings are customizable.
Some collections are already supplied with 1IM Ministerial approval.
We have set up with our seats:
Università Tor Vergata di Roma - IT, Università degli Studi di Milano - IT, Biblioteca di Poggibonsi - IT, Biblioteca di Cinisello Balsamo - IT, Uni Klinik Giessen - DE, Studentenwerk Hochschule Essen - DE, Biblioteca del Consiglio Regionale FVG - IT, Centro Polifunzionale scuola di Musica di Cesano Boscone -IT.
Other projects
Supplies of chairs and tables for public spaces and commercial spaces

e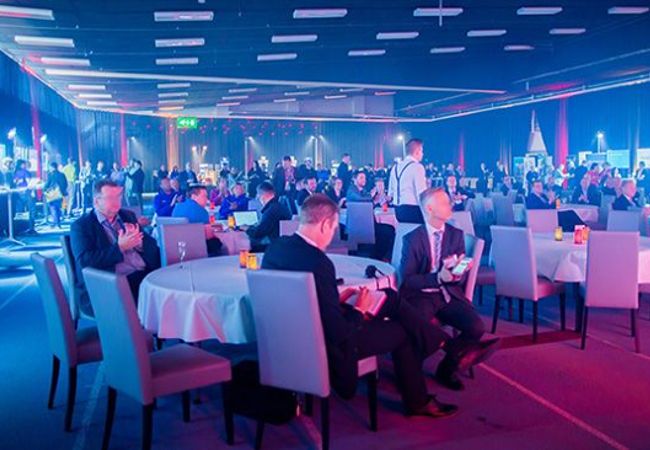 TAMPEREEN MESSUT OY FAIR IN FINLAND
Supply of chairs to the Tampereen Messut Oy, in Finland. A multifunctional space for fairs, events, dinners and conferences.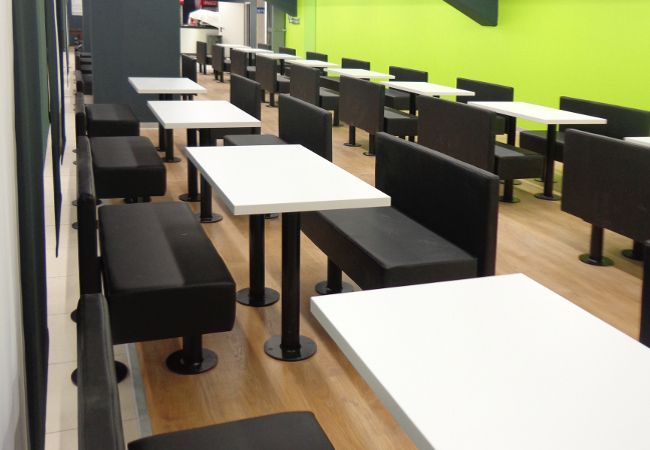 UDINE'S FOOTBALL STADIUM "STADIO FRIULI"
Highly resistant and safe tables, beam seatings and bar stools conceived to furnish a space in black and white. The place where you can celebrate the victory of your favourite football team.